This giveaway is over. Congratulations to our winners, Paula D. from Colorado and Jessica P. from California!
Stay up to date on discounts, giveaways and other news by subscribing to our newsletter.
---
The holidays are just around the corner, and we want to help make gift giving a littler easier for you! Enter our Holiday Giveaway to win one of two prizes to brighten your season and bring joy to others.
First prize is a day pack from Granite Gear, the Taku 24. With this pack, you'll be prepared for any curveballs the season throws your way. Or you can load up and escape the hustle and bustle with a day trip on the trail.
Second prize is a 6-pack of Backcountry the Game. That's right. We said a 6-pack! Don't spend your time running all over town and fighting the crowds when you could win 3 copies of both the Appalachian Trail and Great Smoky Mountain editions of Backcountry. That takes care of a stocking stuffer for both kids, gifts for your nephew who just became an Eagle Scout, the Secret Santa game at work, and your Dad who's not really much of an outdoorsman but just saw A Walk in the Woods and wants to connect with his inner thruhiker.
And you'll still have a copy left over for yourself.
Keep reading for more details on the prizes and how to enter. Or skip directly to the entry form!
First Prize – Granite Gear Taku 24 Backpack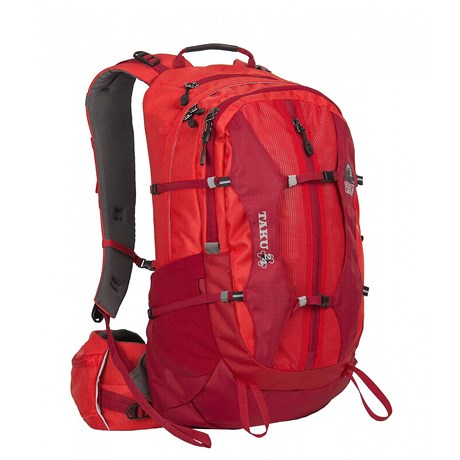 Named for a glacier just southwest of Santa's summer home in Juneau, Alaska, the Taku pack is great for day trips or just
everyday use around town. Granite Gear notes the following features on their website:
Hip Belt Pockets
Hip Stabilizer Pockets
Shoulder Strap Pockets
Built-In Rainfly
Removable HDPE Framesheet
Removable Hip Belt
Hydration Compatible Sleeve Doubles as a Laptop Sleeve
Twin Power-Mesh Side Pockets for Water Bottles
Front Pocket With Internal Pocket
Dual Axe Loops
Haul Loops
Reflective Tabs
The Taku 24 retails for $120. Read more customer reviews and product specs on Granite Gear's website.
Second Prize – 6-Pack of Backcountry the Game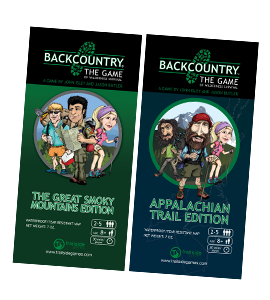 Backcountry: The Game of Wilderness Survival is a fun, backpacking themed strategy game for ages 8 and up. The 6-pack includes three copies of both editions. The Appalachian Trail version pits players in a competition of thruhiker supremacy. The Great Smoky Mountains edition challenges players with multiple paths, shortcuts, and strategic decisions.
Learn more from the following links on our site:
How to Enter
To enter the giveaway, you'll start by simply subscribing to our email list so that we can keep you up to date on the contest and future promotions. Be sure to complete your subscription by clicking the link that will be emailed to you. You may unsubscribe at any time. Just for subscribing, you'll earn 5 contest entries. Be sure to complete your email subscription by clicking the link in the confirmation email or you entries will not count.
Once you have subscribed to our email list several other entry options will be opened to you. Gain more entries by:
Following @backcountrygame on Twitter (2 entries)
Tweeting about the giveaway (2 entries; can repeat daily)
Visiting the Trailside Games Facebook page (1 entry)
Referring your friends to enter the contest through a special link (3 entries for each friend who also enters)
There is no limit to how many entries you can earn. The more you share, the better your chances of winning!
Enter below to win
Holiday Giveaway
As seen on Hypersweep.com!